General Specifications
Authentication
CD Player
Supported Audio Format(S): CDDA
Supported Audio Format(S): CD-R/ RW
Supported Audio Format(S): MP3
Supported Audio Format(S): WMA
CD Player (General Specs)
CD Player(CD Play Mode)
Program Play: Yes
Repeat Play: Program
Repeat Play: All
Repeat Play: Folder (MP3)
Shuffle Play: All
Display Features
Demo Mode: Yes
LCD: Yes
Meta Data Display: MP3 File / Folder Name
Meta Data Display: ID3 TAG
Display Message Features
Function: Yes
MEGA BASS: Yes
Radio Band: Yes
Total Playing Time: Yes
Track Number: Yes
Track Playing Time: Yes
Volume: Yes
Indicator
OPR/BATT: Yes
Recording: Yes
Inputs and Outputs
Audio Inputs: 1 (Stereo Mini)
Headphone Output(s): 1 (Stereo Mini)
Power
AC Power: Removable Cord
AC inlet Type: Parallel Plug
Battery Life (Approx): Radio Reception: approx. 26 hours (FM)
Battery Life (Approx): CD Playback: approx. 9 hours
Battery Life (Approx): At BT: approx. 13 hours
Battery Type: Qty. 6, size C batteries (Dry battery)
Input Voltage: 120V 60Hz
Output Power: 2W + 2W (Root Mean Square)
Power Consumption (in Operation): AC 15W
Power Type: Built-in AC Transformer DC (Battery)
Sound
MEGA BASS: Yes
Volume Control: Electronic Formula
Speaker
Net Material: Metal Punching Net
Speaker Type: Stereo Speaker
Timer
Tuner
AM Antenna: Built-in bar antenna
Auto Scan: Yes
FM Antenna: Rod antenna
Frequency Range AM: 530kHz-1710kHz
Frequency Range FM: 87.5MHz-108.0MHz
USB Features
Play (Mass Storage Class): MP3
Play (Mass Storage Class): WMA
Play (Mass Storage Class): AAC
Recording (Mass Storage Class): MP3
Recording Speed: x2
Weights and Measurements
Dimensions (Approx.): Main Unit (W x H x D): 12 5/8 x 5 1/4 x 8 7/16 in (320 x 133 x 215 mm) Individual Package (W x Hx L): 13 x 9 15/16 x 5 15/16 in (330 x 252 x 150 mm)
Weight (Approx.): Main Unit (without battery): 4 lbs 6.5 oz (2 kg) Main Unit (with battery): 5 lbs 1 oz (2.3 kg) Individual Package: 12.3 oz (0.35 kg)
Wireless
Wireless/Networking
Bluetooth® Technology: Bluetooth® 2.1 Interface: A2DP AVRCP Audio Format: SBC Power Output: 0dBmtyp
Modulation Mode: FHSS
Transmitting Power: Effective Range: about 10m
Wireless Frequency: Bluetooth® (2.4000 - 2.4835 GHz)
Tuner
Audio
Preset Channel: 30 (FM 20, AM 10)
Audio Features
Take your tunes on the go with the Sony ZSRS60BT CD Boombox. This boombox lets you play music from a variety of sources, including CD, CD-RW, MP3-CD, AM/FM radio, 3.5mm AUX input, USB thumb drives, and Bluetooth streaming. For easy Bluetooth connectivity, built-in NFC allows you to tap your compatible device against the NFC logo for instant pairing.

- CD, CD-R/RW, USB, and MP3 playback
- Stream music wirelessly with Bluetooth® and NFC
- MEGA BASS® sound enhancement
- FM/AM radio with 30 memory presets and LCD display
- Up to 26 hours battery life
- Audio-in for use w/ MP3 players and other audio sources
- Compact design w/ handle for portability and easy to use buttons
- Headphone jack

---
FEATURES:
CD Boombox with Bluetooth® and NFC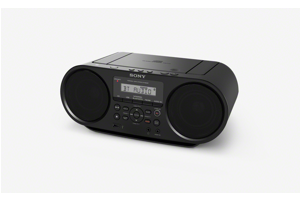 Media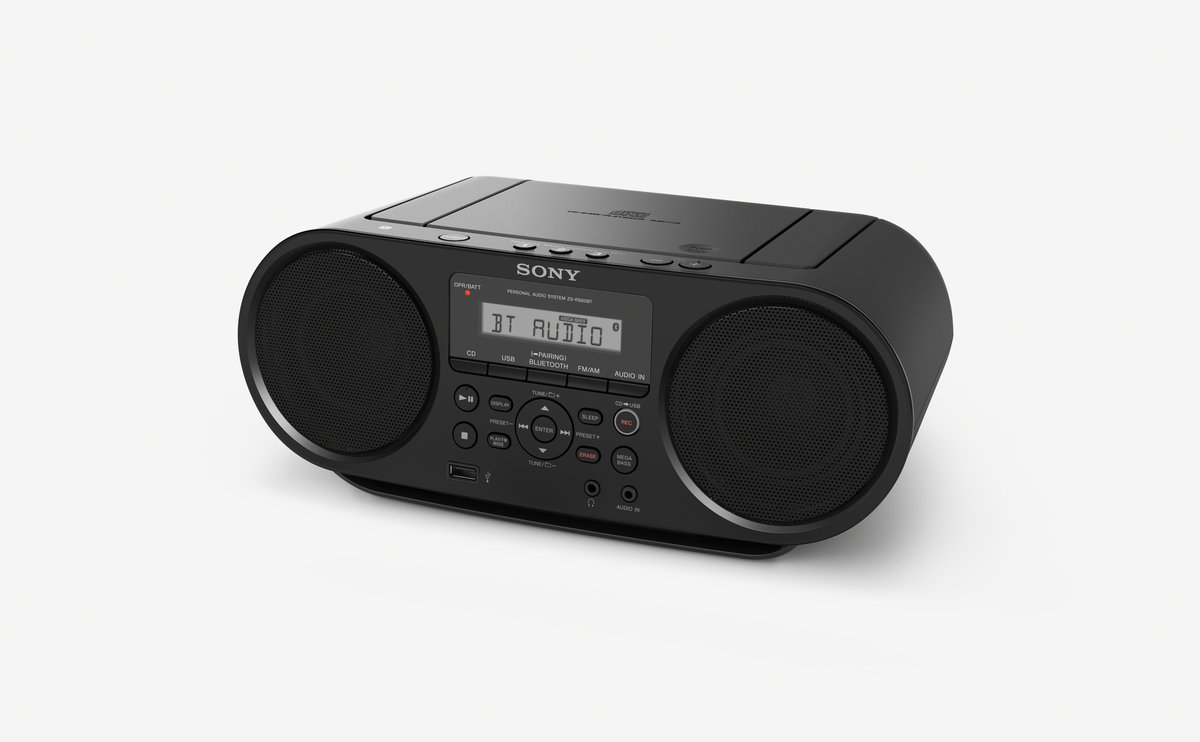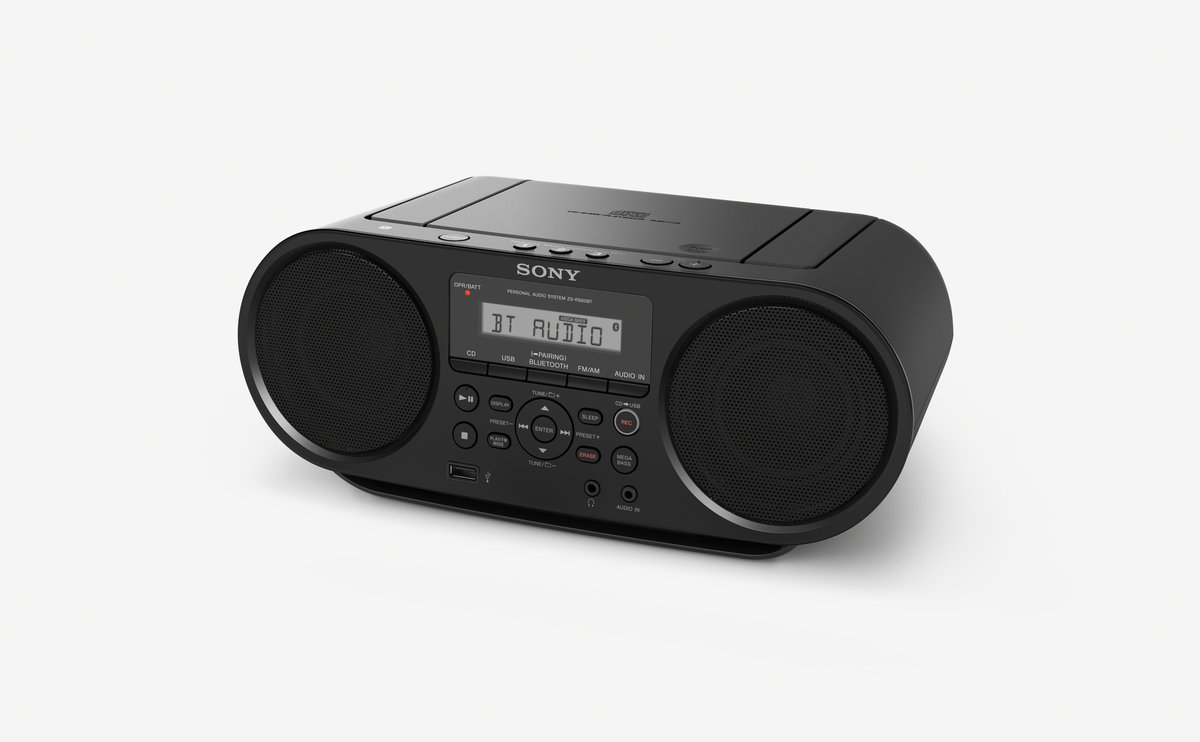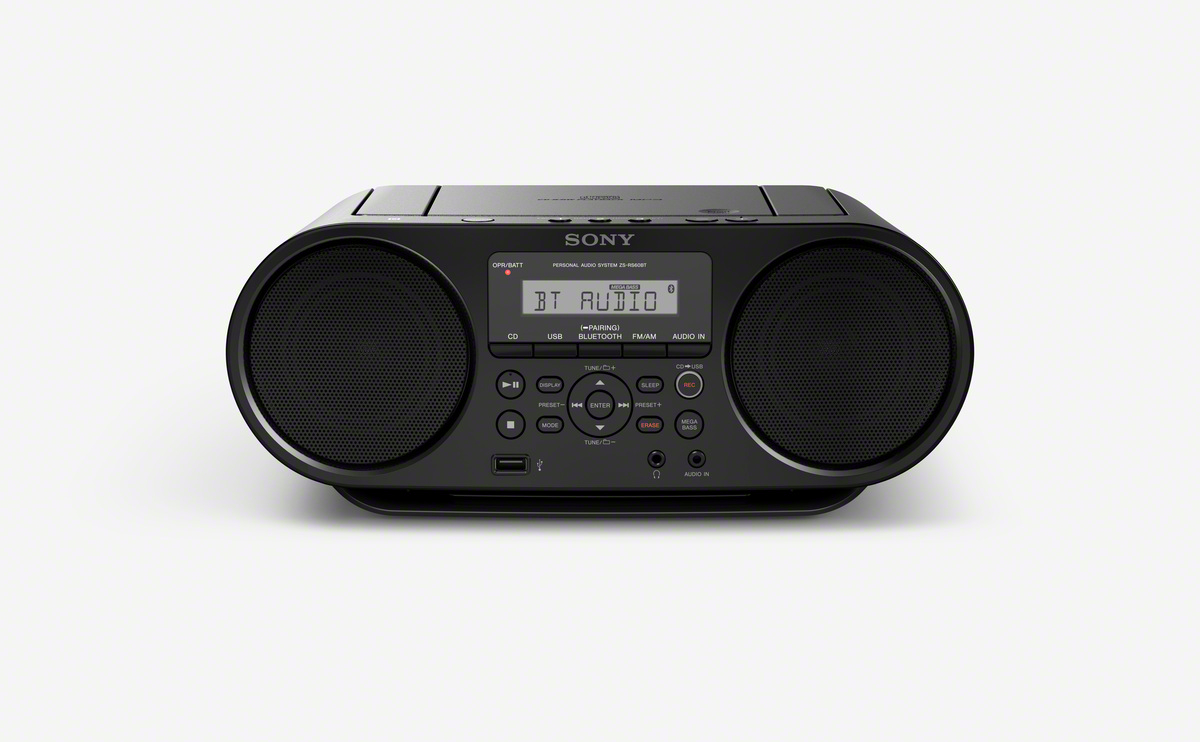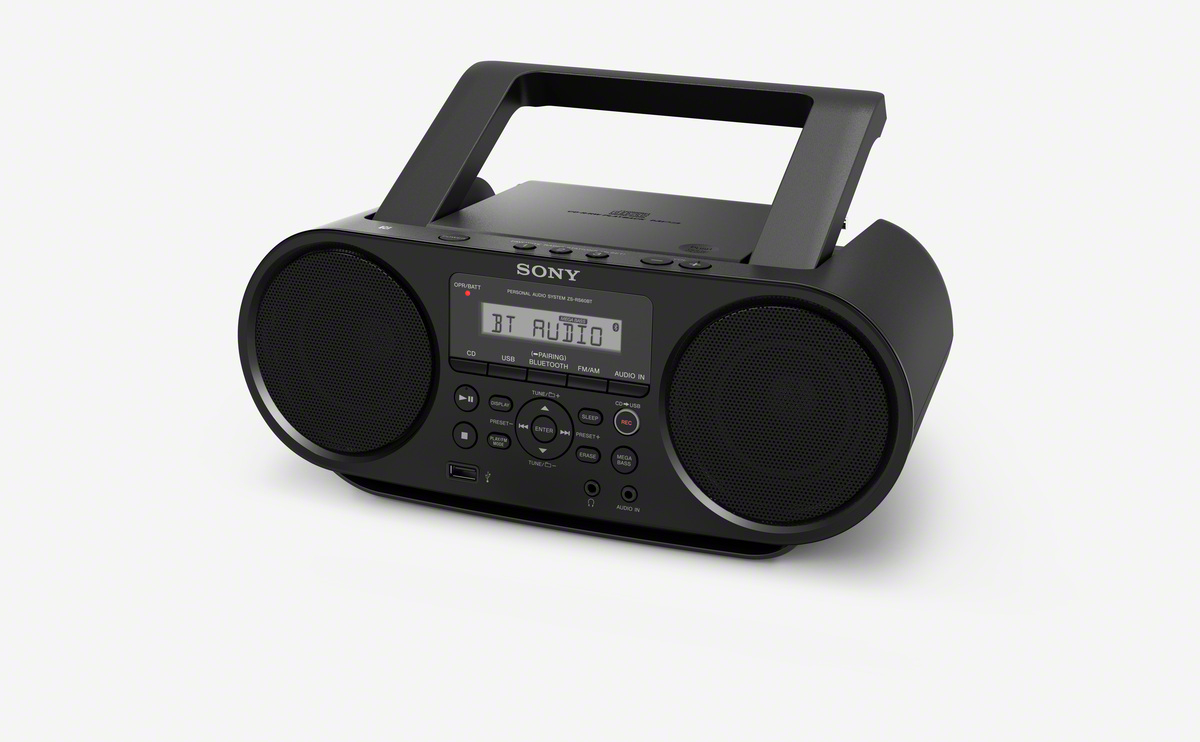 Features
Enjoy stereo sound
Stereo speakers housed in a bass-reflex design deliver an enjoyable listening experience.
Portable sound for life on the go
Enjoy your favorite music on the go, for up to 26 hours1 (requires 6 size C batteries, sold separately). For battery swaps that are a snap, the battery compartment quickly and easily clicks open and closed.
MEGA BASS with "Bass Reflecting Speaker System"
Bass boost circuitry enhances low-frequency bass performance at the touch of a button.
Bluetooth® Audio Streaming
Take advantage of your compatible Bluetooth® enabled music devices via the audio streaming4 functionality.
One Touch Connection with NFC
Enjoy convenient Bluetooth® pairing with NFC (Near Field Communications) technology. Simply align the NFC logos and tap to: power the speaker on, activate Bluetooth®, pair the two devices, and stream your music.4
Enjoy FM/AM radio programming
With the built-in, digital FM/AM Stereo Tuner with 30 station preset memory (20 FM, 10 AM) you can enjoy a wide variety of radio, talk and music programming.
Enjoy convenient CD playback
Enjoy your favorite CDs or personally recorded CD-R and CD-RW discs, including those with MP3 files2.
USB recording and playback
Easily record an entire CD, or your favorite tracks from a CD, in MP3 format, onto a flashdrive using the CD Sync feature3.
Plays well with others
An auxiliary audio input lets you connect almost any portable audio device to the Boombox for easy access to the music within (cable not included).
Headphone jack
For private listening, a built-in headphone jack is available.
Sony Store customer reviews
Just love it!
Festivarian, Denver, CO, USA:
Bought for use in my vintage trailer. Size and various media choices makes it just perfect for what I need.
SONY ZSRS60BT CD Boombox with Bluetooth® and NFC
Add to Cart / Login to see price